1. How did you came up with the name of the band?
With a previous band we were doing a set of songs with symbolism based on Eastern Europe and one of the lyrics said "Viva Belgrado". When we had to play our first show we just chose it because we didn't have anything better.
2. Do you have a standard procedure of creating a song? Do you just jam around or is there a main riff and the track is build up on it?
We normally bring riffs and basic structures from home to the rehearsal place. Then we jam over them until everybody feels happy with what they're playing. The lyrics are usually assembled at home.
3. What are your influences and what kind of music do you hear when you are at home?
I guess the most obvious are French screamo bands like Daïtro or Sed Non Satiata and some other modern american acts as Touché Amoré or La Dispute. But we listen to plenty of music at home: from Moderat or Nujabes to David Bazan or Pinegrove.
4. Which is the one album you can't live without?
Probably Laisser Vivre les Squelettes by Daïtro. I keep coming back to it every now and then.
5. What's the first record you've ever bought?
Jaio.Musika.Hil by Berri Txarrak back in 2005.
6. Name a band that you would like to share the stage or tour with?
Plenty of them. I'd probably say Lisabö, one of my favourite bands ever.
7. Did the internet and specially the blogs helped to spread your music around the world?Name a place (country) that you were surprised to know your music has reached to?
Definitely yes, we owe a lot to small blogs and the Internet in general. We're very surprised about plenty of Russian people following us as we've never been there yet and we can imagine the language barrier is strong.
8. Do you support the idea of bandcamp where fans can decide the price or services like spotify?
We've always put our music on "name your price" and we'll always do it. Spotify is interesting and easy going but it's not the best way of supporting small bands.
9. Where do you see yourselves in 5 years?
Hopefully still touring new countries and playing better shows together.
10. Is the artwork of an album important nowadays in the digital era?
I think so. Music is consumed so quickly nowadays that it is important for an artwork to make an impression on the audience. Also physical copies are sold as a fetish and if the artwork is cool they are more likely to sell better.
11. What is you favorite album cover?
I'm a big fan of simple typographic artworks such as Lisabö's "Ezlekuak" or "Animalia Lotsatuen Putzua".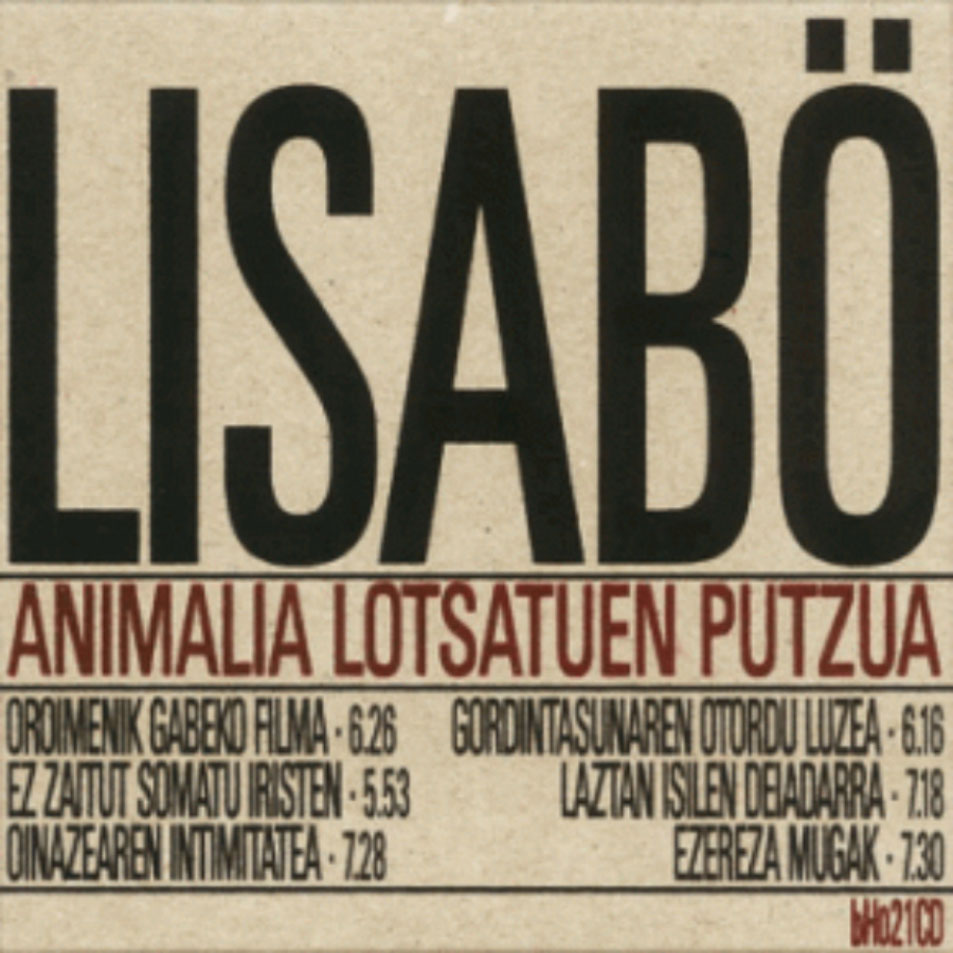 12. It seems that a lot of people are turning on vinyl again. Why do you think that is and which is your preferable media format?
As we said before, if the artwork is cool more people are likely to buy it. Nowadays you can have access to your music on your phone so if people are gonna spend money on a physical copy I understand they prefer to buy something that's nice to hold and touch. I enjoy the ritual of opening a vinyl and playing it on the plate but try to have my favourite albums on FLAC.
13. What's the most vivid story or moment as an artist?
Every tour is full of vivid stories and it's hard to chose one. Generally I'd say that to be able to work with and see the world with my best friends is the best thing that's happened to me as an artist.
More info:
Viva Belgrado
are on tour right now, so if it happens and play in your town, do yourself a favor and go see them, cause their new album is a killer!
Click to zoom